If covering a sail boat use the mast as the tent ridge pole  otherwise its not a bad plan to create a structure with wood or pvc tubing. The idea is to shed snow such that the weight of the snow and ice do not damage the boat. Be sure to support the mast well to avoid having it bend over the winter.
Its a good idea to remove stanchions as its hard to create a snow shedding structure with them in place. You will also avoid damaging them by removing them
Make sure there are no flat areas where snow can accumulate, a bit of propping up in some ares may be necessary.
Sharp edges, corners and protrusions are murder on a tarp…they wear holes through tarps within days . Prevent this problem by covering those sharp edges with strips of old carpet, rags even an old PFD will work. Use duct tape or plastic wrap to secure them in place.  Plastic wrap is also a good option for wrapping  the rigging around the mast.  Plastic wrap is now widely available at dollar stores for a few bucks a roll.
If you are using last year's tarp it's a good idea to insect it prior to placing it on the boat. Its much easier to patch a hole while the tarp is laid down on the ground  rather than 10 feet up. Holes can be repaired with duct tape , red sheathing house wrap tape or gorilla tape.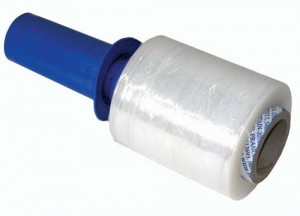 Movement is death to a tarp, a fluttering tarp will be destroyed in a single season . Tying down a tarp such that it is as immobile as possible  is vital.  The unusual approach is to use a lot of 1/4″  rope to tie the tarp to the cradle , trailer and around the boat. Another more effective approach is to  pin the tarp down in 4-6 spots on the cradle and then weighing  the tarps edges down at the grommets.  Sand filled jugs can be used to weigh down the tarp but  water filled containers work just as well. The containers can be 2 liter pop, juice or laundry detergent jugs. They are readily available  and are recyclable . Four  liter water or antifreeze jugs work well too.
You can save yourself a lot of time and rope by opting for the following  method of tying on jugs.  Cut off a foot of 1/4″ line, tie one end to a tarp grommet and make a 2″ loop at the other end. Lead the loop through the jug handle and wrap the loop around the jug cap as in the photo below. The beauty of this is that you can easily remove the jugs and your tarp is ready for storage.  Next year all you need to do is collect another bunch of jugs.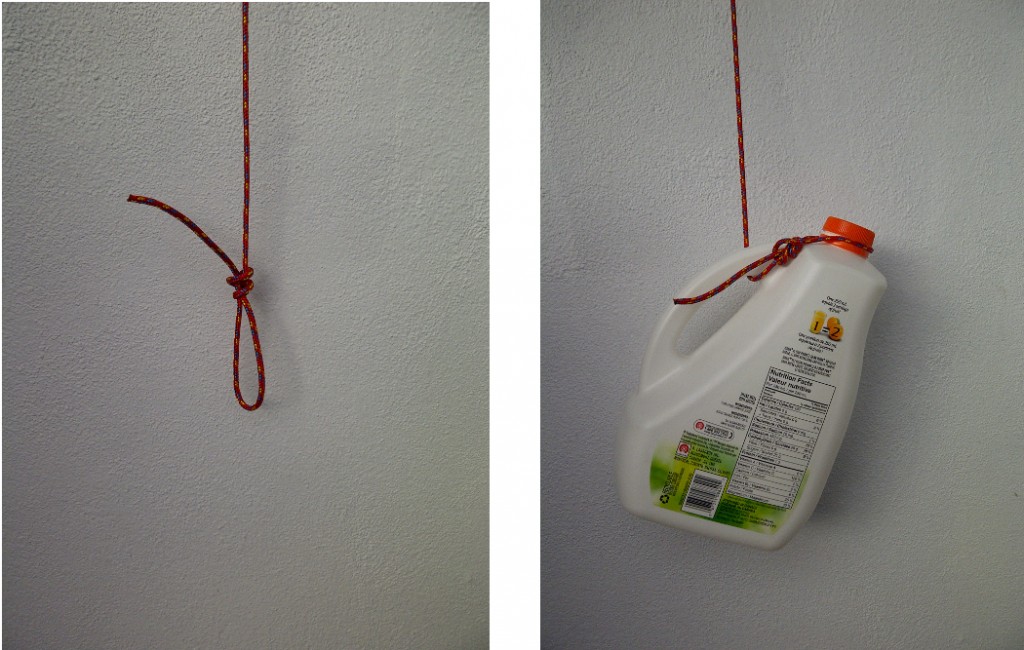 If you drink a lot of pop or juice use the following method.  Drill a hole though the bottle cap of a pop bottle . Cut a 1′ section of 1/4″ rope and tie a not in one end. Thread the rope through the bottle cap such that the knot is inside the cap. Fill the bottle with water cap it the tie the other end to a grommet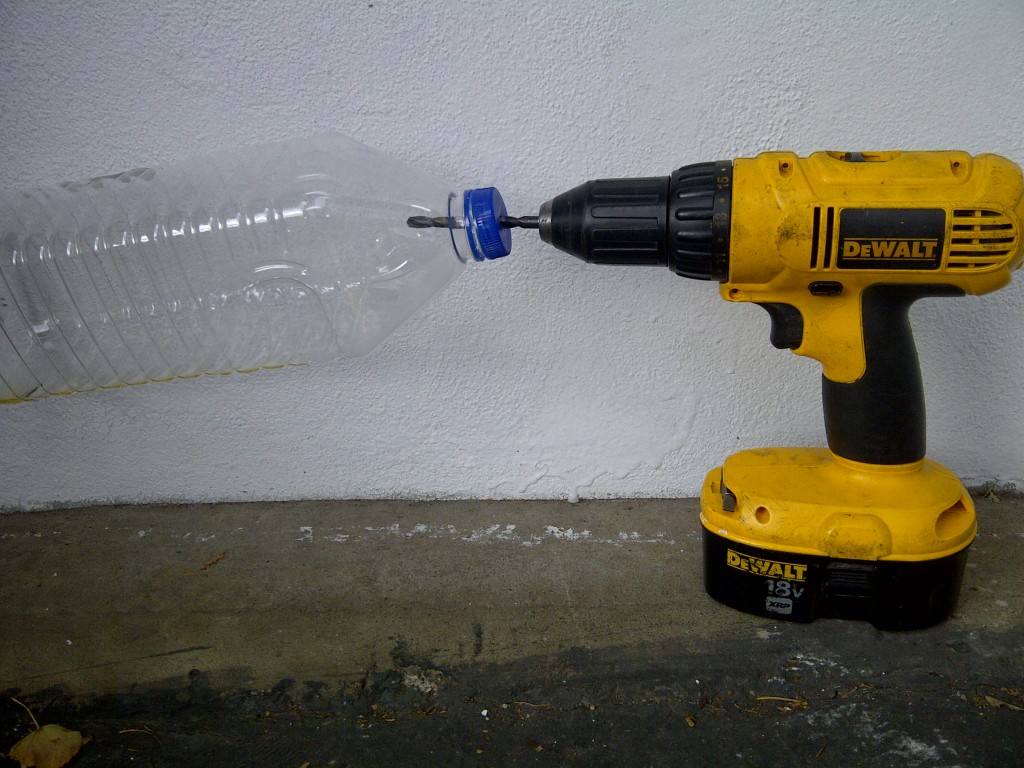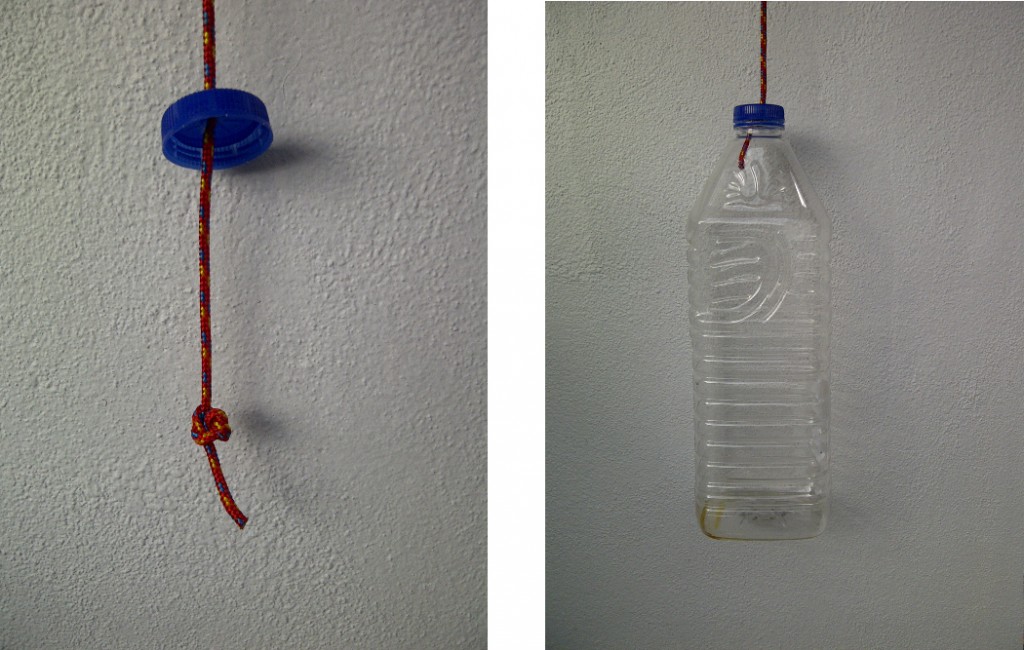 Make sure the jugs are well off the ground. If they are set too low accumulating snow and wind will lift them off the ground making them ineffective.
Weight down the bow and stern sections of the tarp with 2-3 jugs.
Tarp clips may be purchased if the tarp has insufficient or ripped through grommets or if you wish to add more weight to the tarp.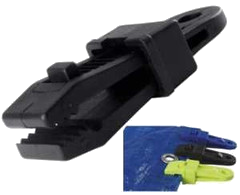 Make sure the tarp has good ventilation, or mildew can become a problem.  Leave an opening at the front and back of the tarp in order the allow for adequate ventilation
A battery-powered AM radio left playing and tuned to an all-talk station will deter critters from moving in for the winter. This is especially applicable  in late fall.
Check up on you boat regularly throughout the winter adjust and tighten the tarp as required. Over the years you will learn where the weak spots are and also where snow and ice accumulate. Adjust accordingly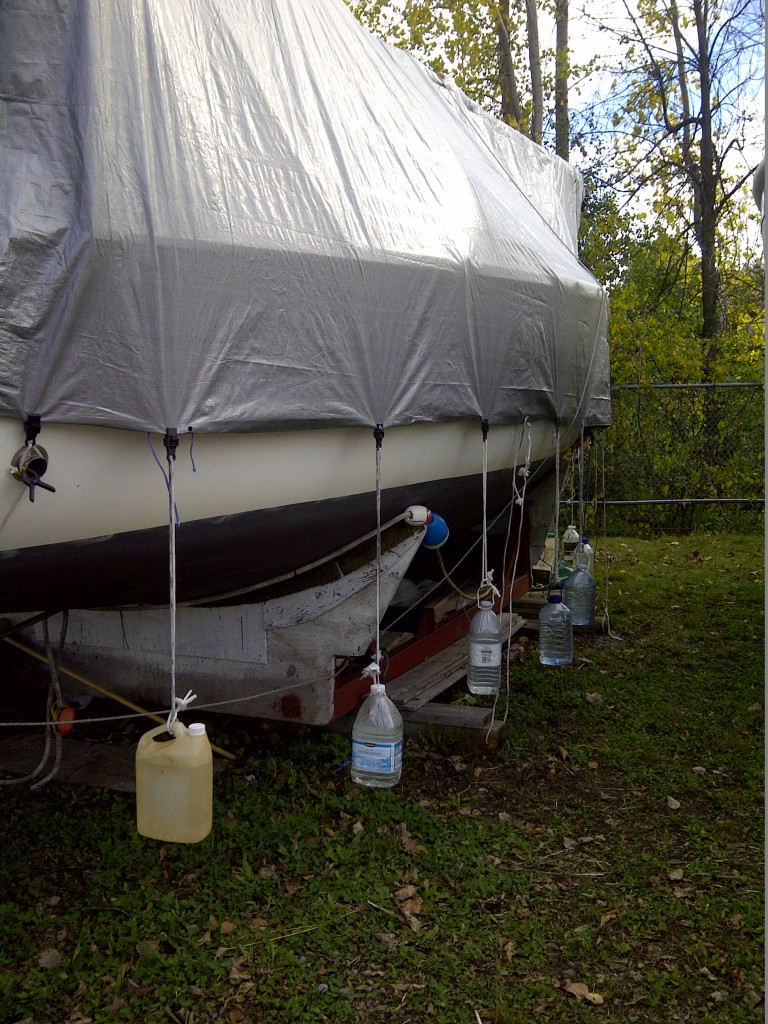 ———————————————————————–
 Available at boathouse
High quality Tarps
Gorilla tape
 Tarp Clips
Disclaimer for boatshouse.ca.
The information articles provided is for general purposes only and intended to help you make better decisions about your boat and boating equipment. Such information is not intended to substitute for instructions from the manufacturer, dealer or marina about your specific boat or boating equipment and Boathouse specifically disclaims any liability for damage to your boat or equipment arising from your following these suggestions. For more details about your equipment or application, we suggest you contact the manufacturer of your boat or other equipment.