(englsh below)
Bonjour tout le monde et bienvenue sur notre tout nouveau Blog Boathouse!!! Il y a tellement de nouvelles choses à raconter, que je ne sais pas par où commencer.
Comme plusieurs d'entre vous en ont à déjà entendu parler, nous avons agrandi le magasin existant pour englober un autre 5000pi.ca. additionnel. Ce qui fait une énorme différence pour nous et rend possible quantité de projets merveilleux. Tout d'abord, nous avons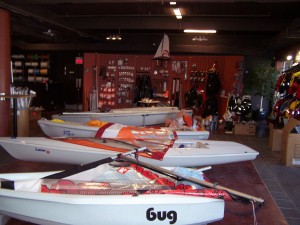 maintenant une réelle "Salle de montre du Dériveur" où nous allons présenter un grand choix de produits LASER ainsi que des bateaux RS de l'Angleterre. Pour compléter notre salle, nous avons un grand espace dédié exclusivement aux "Accessoires Dériveurs". Notre nouveau Département Électronique est particulièrement «Punché»!!! Nous avons une belle section spécialement conçue pour éveiller l'appétit Techno même des plus capricieux et sommes impatients de vous offrir des séminaires de formation sur grand écran.
Un autre coin très agréable dont je suis particulièrement fière, c'est notre département pour femmes. Nous avons toujours encore aujourd'hui la fantastique ligne de produits extérieurs pour femmes de GILL, ainsi que les nouveaux éléments tels que les chandails pelucheux "oh si doux!" et les vestes polaires moelleuses, et avons ajouté une nouvelle ligne de vêtements de plage Luna Sea. Avouons-le les filles, vous porterez un maillot de bain pratiquement tout l'été sur ce bateau et chaque maillot de bain nécessite un paréo ou sortie de bain!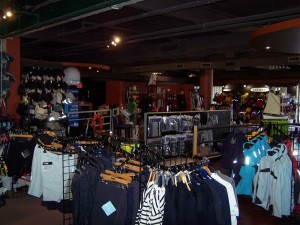 Luna Sea est une superbe ligne de robe de soleil de "taille unique" de couleurs vives pour l'été prochain. Bien sûr, il ya des écharpes, des sacs d'emballage, des accessoires et des bijoux pour couronner le tout. Juste à côté, laissez-moi vous dévoiler le nouveau Département de la chaussure! Vous dire combien je détestais courir à l'arrière pour trouver votre pointure… alors maintenant, plus de course, nous avons regroupé plus de styles que jamais, déjà en démonstration sur les étalages, dont toutes les grandeurs se retrouvent à porter de la main, plus besoin d'attendre!!!! Comme nous avons besoin de faire de la place pour le stock entrant à chaque nouvelle saison, nous avons toujours toute une gamme de produits en grande solde.
Outre les chaussures, nous avons élargi notre espace teck avec les Produits et Spécialités Teck ARB. Nous avons toujours eu les traditionnels petits articles en teck que vous trouvez partout dans les bateaux, mais maintenant nous avons aménagé certains gros morceaux de qualité plus sophistiqué. Vous pourrez maintenant retrouver des chaises Steamer, des tables, des meubles de patio, nous avons même un "Beach Bar pliant" et plusieurs styles de tabourets.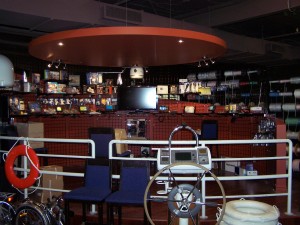 Les produits ARB Teck sont pratiquement sans entretien. Ce bois est choisi parmi les couches internes de l'arbre le rendant plus dur et plus résistant. Il ne nécessite pas l'application d'huiles ou d'autres produits puisqu'il prend très bien soin de lui-même!
Donc, tout cela démontre notre nouvelle section, mais, que se passe-t-il dans le magasin d'origine? Eh bien, pour commencer, laissez-moi vous annoncer que la Voilerie Windyne est de retour! Notre service de réparation et de nouvelle voile s'est réinstallé chez Boathouse, à la grande joie de nos clients. Cela mis à part, le plancher déborde toujours de tous les écrous, boulons, cordage et pièces dont vous avez besoin. Je devrais mentionner également que nous avons encore cette année un personnel qualifié qui est impatient de vous aider avec tous vos besoins de navigation.
Au plaisir de vous rencontrer bientôt.
Cordialement.
Laurieanne
***************************************
Hi everyone, welcome to our Boathouse Blog! There are so many new things to talk about, I barely know where to start. Yes, as many have already heard, we have expanded the existing store to encompass another 5000 sq ft. It's a huge difference for us and made all kinds of wonderful things possible. We now have a Dinghy Show Room where we will display a large selection of LASER products as well as RS boats from England. To accompany our boats we have a large area dedicated exclusively to everything dinghy. Our new Electronics Department is particularly "hot".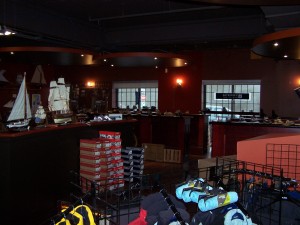 We have a beautiful area specifically designed to tantalize your ever-techy appetite and we look forward to giving "Big Screen" Seminars. Another nice spot that I am particularly proud of, is our Ladies Department. We still carry all of our fantastic GILL ladies outer wear, as well as the new items such as sweaters and "oh so soft" fluffy polar jackets, but we have a new line of beach wear by Luna Sea. Face it girls, you will be caught in a bathing suit on that boat and every bathing suit need a good wrap or cover! Luna Sea is a fun line of sundresses etc that are "one size fits all" in great colors for the upcoming summer. Of course, there are the scarfs, tote bags and jewelry to pull it together too.
Moving right along, don't get me started on the new Shoe Department! I used to hate running to the back, so now, more styles than ever are on display with the sizes right under them. There are always specials, as we need to make room for this year's incoming stock. Beside the shoes, we have our expanded Teak by ARB. We have always carried the traditional little teak items that you find all over the boat, but now we have moved into some larger pieces of exquisite quality.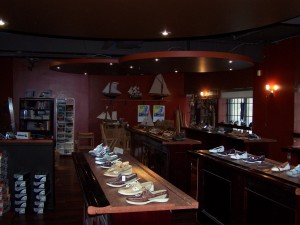 You will now find Steamer chairs, Tables, Ornate Patio furniture , we even have this way cool folding bar and several styles of barstools. ARB teak is very low maintenance. This wood is selected from the inner layers of the tree making it harder and more resistant. There is no need for oils or other coatings as it looks after itself!
So, all of this is showing up in our new section but, what is happening in the original store? Well, for starters, the Sail Loft is back! Our service of repairs and new sails has re-installed itself at Boathouse much to the delight of the customers. Aside from that, the Boathouse is still full of all that nuts and bolts and pieces that you need. I should also mention that we have a super staff this year that is looking forward to helping you with all of your boating needs.
All the best
Laurieanne



Bienvenue à notre nouveau blog – Welcome to our new blog