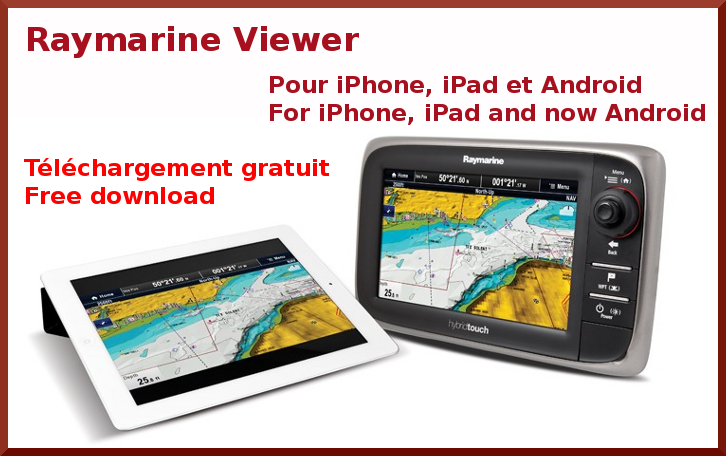 Transformer votre tablette ou smartphone en afficheur à distance.
L'application  gratuite  RayView  de Raymarine  permet de vous connecter à votre écran multifonctions Raymarine et  de transférer  l'image vidéo  MFD directement sur votre tablette ou téléphone intelligent.
Configuration recommandée:
Appareils iOS = Meilleure performance réalisée sur iPhone 4 et plus  et iPad 2 et plus;
Android / Kindle Fire = Meilleure performance réalisée avec le processeur 1GHz  ou meilleur et une exécution 2.2.2 ou meilleure.
Exige également d'avoir le dernier logiciel v4.27 su votre écran Série C ou E – télécharger le gratuitement ici
Fonctionnalités RayView
Il suffit d'activer la diffusion sans fil  sur l'écran Série E ou C,  puis d'activez le réseau Wi-Fi sur votre Android ou appareil iOS.
Une fois relié, vous êtes en mesure de voir exactement ce qui est affiché à la droite  de votre écran E OU C sur votre Android ou appareil iOS.
Vous pouvez même faire une pause de la diffusion et d'utiliser la fonction zoom d' iOS . De plus, en appuyant simultanément  sur la touche d'alimentation et la touche Home votre appareil iOS  et il transfère directement la capture d'écran à votre banque de  photos..
*****************************************************************************************
Transform your tablet or smartphone into a remote viewer!
The FREE Raymarine RayView app allows you to connect to your Raymarine multifunction display and stream the MFD video image directly to your tablet or smart phone.
Recommended Requirements
iOS Devices = Best performance achieved on iPhone 4 and better and IPad 2 and better
Android/Kindle Fire = Best performance achieved with 1GHz processor and better and running 2.2.2. or better
Also requires your c-Series or e-Series display to have the latest v4.27 software – download for free here
RayView Features
Simply enable wireless streaming on the new e and c Series displays and then enable the Wi-Fi network on your Android or iOS device. Once paired, you are able to see exactly what is displayed on the e and c display screen right on your Android or iOS device.
You are even able to pause the streaming and use the iOS pinch zoom capability. Equally, press the power and home key on your iOS Device simultaneously and it captures a screen grab straight to your photo library.